Discover our Premium 3-bedroom range jacuzzi®
A superior range including all the comforts of your home and equipped with a private Jacuzzi®.
Descriptive
Mobil-home
Bedrooms: 3 bedrooms including one ensuite bedroom with a mini dressing room and 2 bedrooms with two single beds. Hair dryer, duvets, bedlinen, pillows and towels provided.
Kitchen: hotplate, fridge/freezer, conventional oven, crockery, microwave, espresso machine, flat top grill, toaster and dishwasher.
Bathrooms: 1 ensuite bathroom for the master bedroom and 1 bathroom for the two other bedrooms. Shower and washbasin. Separate toilet.
Outside: semi-covered terrace or ground-level terrace with garden furniture and 2 sun loungers. Private jacuzzi®.
TV + Wifi pass for 3 devices + cleaning package included
Reversible air-conditioning / heating.
Age: 4 years old
Actual mobile homes may differ from the photos and plans shown.
Map of the mobile home
>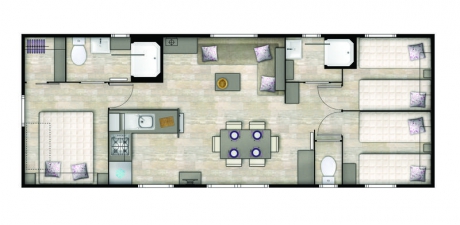 ZOOM
Rates & availability
WEEKLY BOOKING
Choose your dates then your mobile home range :
WEEKEND RESERVATIONS & SHORT STAYS
Compose your tailor-made stay with the search engine below: