Discover our Authentic range
A nice and spacious living room, ideal for 4/5 people.
Descriptive
Mobil-home
Bedrooms: 1 bedroom with a double bed, 1 bedroom with two single beds. Duvets or blankets and pillows provided. Bedlinen not provided. Convertible bench seat.
Kitchen: hotplate, refrigerator, microwave, filter coffee machine, crockery and TV.
Bathroom: shower and washbasin. Separate toilet.
Outside: semi-covered or integrated wooden terrace with garden furniture. Flat top grill.
Heating
Age: between 5 and 14 years old.
PRM: we have a number of specially adapted models for people with reduced mobility (please contact us for availability)
Actual mobile homes may differ from the photos and plans shown.

Map of the mobile home
>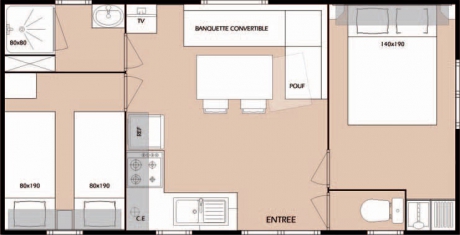 ZOOM
Rates & availability
WEEKLY BOOKING
Choose your dates then your mobile home range :
WEEKEND RESERVATIONS & SHORT STAYS
Compose your tailor-made stay with the search engine below: